This is the home of all updates regarding my writing, gardening, and life. Check back frequently for news.
I am incredibly pleased to announce that, moving forward, I will be represented by Fearless Books and Literary Services for The Spiritual Gardener. Take a look at the blurb below and check out their website!
http://www.fearlessbooks.com/index.html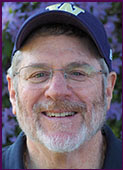 CURRENTLY IN REPRESENTATION: Fearless Literary has signed Andy Becker of Gig Harbor, Washington, for his gift book of practical inspiration entitled THE SPIRITUAL GARDENER: Fertile Insights from the Jewish Tradition To Help Your Garden Grow. A small-town attorney who now works mostly in mediation, Andy was once a frustrated gardener, beset by rocky soil, hills, too many surrounding trees, slugs, and deer. Despite these challenges, Andy has never failed to grow vegetable and flowers every spring and summer, reflecting on the deeper aspects of his labors as he turns the soil and harvests a bounty. In 18 elegant essays touching on such subjects as Weeds, Damn Wabbits, Horseradish & Bitterness, and Raspberry Jam, Andy creates a reflective "how-to" guide to gardening that's useful at both ground and soul levels. The book will also feature full-color illustrations by Washington artist Abigail Drapkin. To learn more about Andy and watch his gardening vlogs, see andybecker.life.